10 Tips for increasing HVAC service agreement sales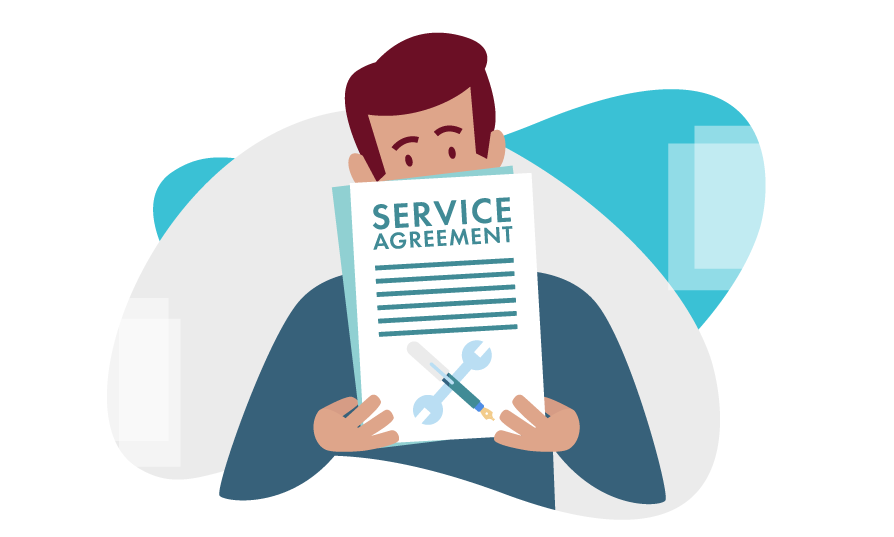 HVAC has always been a predominantly seasonal industry. But service agreements have the ability to change all of this by bringing a steady stream of cash into your business.
Struggling to sell service agreements to your customers?
Check out our top 10 tips for increasing HVAC service agreement sales.
Selling service level agreements is just one of the ways you can increase your revenue. For more great tips, take a look at our free eBook:
1.

Give Customers a Free Air Quality Monitor
Air quality monitors are quite new to the HVAC industry and indoor air quality (IAQ) is a new consideration for customers too. Healthy living is a growing trend, and this doesn't just include food and exercise, it includes clean air too!
By offering your customers a free air quality monitor when they sign up for a service agreement, you can increase sales and also increase your chances of further work. Read the next point to find out more…
2. Offer Clean-Air-as-a-Service
​Air quality monitors can tell customers about the level of pollutants in the air, but they cannot fix it. That is where you come in. When you give customers a free air quality monitor, you can make all of the improvements required to fix the IAQ and then sell clean-air-as-a-service as part of your service agreement.
This means that if the air quality monitor ever reports an increase in pollutants in the air, as part of the service agreement, you can fix it for the customer to ensure that they always breathe clean air.
​If you only communicate with your customers when you want money from them, then your relationship isn't going to be very stable. Take brands on social media as an example. Those that are the most successful aren't the companies trying to sell in every single message! Don't be afraid to offer your customers free advice every now and then. By including this as part of your service agreement, you can increase sales and also customer satisfaction.
In our free eBook, we talk about the Nested Dolls approach. This is basically the method of offering free advice to your customers when they have an immediate problem that can be solved in a simple way, for example, by changing a filter. This will eventually work in your favour, because if or when there is a real problem with your customers' HVAC systems they know they can trust you because:
You have an understanding of their system
They have an existing relationship with you
By building trust through free advice, your customers will listen to you. So when you tell them it is relevant to consider a rework, they know that it is.
4.

Show them how great you are
When you sell clean-air-as-a-service, or even when you use air quality monitors in other areas of your job, you will be able to prove the work you have done with the use of before and after charts, like this one:
Charts like this can become powerful sales tools as they prove the benefits of service agreements for your current customers, in turn showing new customers what they can expect.
5. Create a Referral Program
​One great way to sell service agreements is to encourage your current customers to do it for you. Word-of-mouth is such a precious sales tool because people are much more likely to trust the opinion of a loved one over the marketing material of a business. According to recent studies, people are 4x more likely to buy when referred by a friend, and the lifetime value for new referral customers is 16% higher than non-referrals!
To entice your current customers to spread the word about your HVAC service agreements, you could create a referral program that entitles them to benefits every time they refer a new customer to you. This could be money off their own service agreement, or even something not related to HVAC at all, like a gift voucher. Choose something that you think would be a good way to say thank you to your customers.
6. Get your Contractors Excited about it
​If your contractors aren't excited about your service agreements, then your customers won't be either. You need to present them with something they believe in, something they themselves would buy, so that they can go out and sell it to customers with enthusiasm.
In order for your contractors to get excited about increasing your HVAC service agreement sales, they first need to fully understand and be able to speak confidently about it. Host a short training session with your contractors, giving them all of the information they need and also the opportunity to ask any questions.
7. Set Goals & Incentivize Contractors
​Once your contractors are equipped and ready to sell service agreements, you need to find a way to encourage them to sell as many as possible. You can do this by setting goals and offering rewards to the contractors who meet those goals. Here are a few examples:
The first contractor to sell 20 service agreements wins a $100 gift card
Any contractor who sells 5 service agreements (or more) every week for 5 weeks wins a paid day off
For every service agreement sold, a ticket will be put into raffle. At the end of the month, three tickets will be drawn and three prizes given
8. Be Transparent
If your contractors are incentivized to sell service agreements, then it is important that their eagerness does not compromise the message of what you're selling.
Increasing service agreements isn't just about increasing your revenue for that year, it is about increasing your customer base for the long-term. And if you want customers to stay with your HVAC company, then is important to be honest from the start. Make sure that there is no ambiguity in the agreement, and be sure to only promise what you can deliver.
9. Don't Forget about your Existing Customers
​Once you have some customers signed up for service agreements, it can be easy to forget about them and focus on getting new customers to sign up. But existing customers are SO valuable, and you need to treat them as such. According to Bain & Co, increasing customer retention by just 5% can boost profits by 25% or more!
Don't forget about your existing customers, and don't let them forget about you. Give them a reason to continue renewing their service agreement every year (like a monthly or bi-monthly report of the IAQ), otherwise you could lose them.
​Final tip: Get a Net Promoter Score
​A good net promoter score (NPS) shows people that your current customers are happy with your service, and therefore encourages new customers to come on board. To find out what your NPS is, you simply need to ask all of your customers one question:
"On a scale of 0-10, how likely is that you would recommend [enter company name] to your family and friends?"
Any customers who give you a score of 6 or lower are called "detractors", customers who rate you between 7 and 8 are "passive", and those who rate you 9 and 10 are "promoters". Promoters are the people that will help you to develop that all-important word of mouth.
To calculate your NPS, you need to subtract the percentage of detractors from the percentage of promoters. A great NPS will help you to increase your HVAC service agreement sales because it will show new prospects how happy your current customers are.


Selling service level agreements is just one of the ways you can increase your revenue. We'd love to hear about the other ideas that worked for your HVAC business in the comments below. For more great tips, take a look at our free eBook: