5 Easy to implement HVAC Marketing Ideas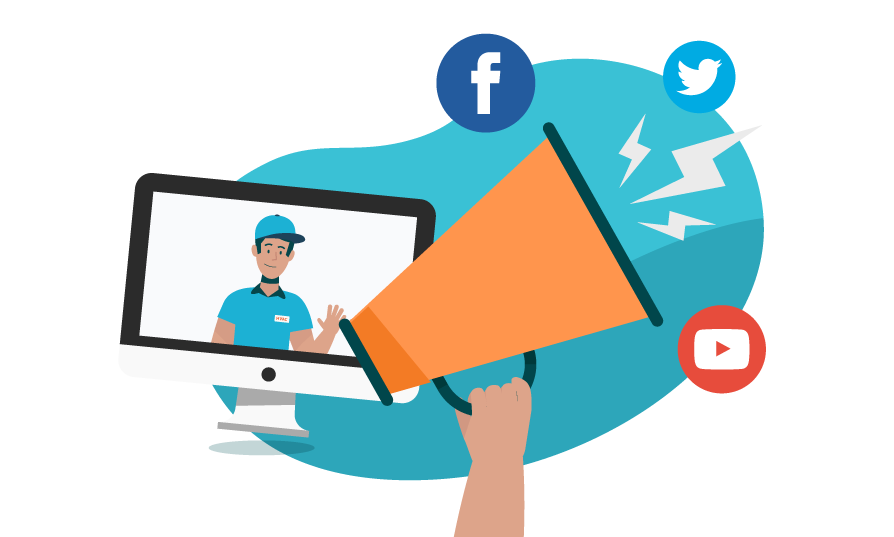 Getting customers' attention is simply not as easy as it used to be, gone are the days of just relying on word of mouth.
The heating and air industry is very competitive, so it's important to stand out.
With just one residential customer having the potential to be worth over $10,000 (and commercial customers even more) it's time to get more leads!
In this article we will discuss 5 easy-to-implement HVAC marketing strategies to help you do just that:
1.Content
"Content marketing generates over three times as many leads as outbound marketing and costs 62% less."
Content Marketing Institute
​
In other words, having a blog filled with valuable content is key to establishing your authority as an HVAC business.
Don't just create content for the sake of it, create something that will keep its value long after it has been published. This is called 'Evergreen content', meaning that your customers can pick this up at anytime and it will still be relevant.
A good way to approach content would be to aim for every piece/blog to solve a problem. Readers are usually scouring the internet for an answer to something, and if your blog is the one to provide that, you can gain instant trust.
Content should be created for your audience, and not be completely revolved around your business. Look at educating the readers, and making them feel comfortable about the buying decision they're about to make.
Here is an example of another Foobot blog that demonstrates what we have explained above. It's content created for the audience that will educate them and help solve a problem.
2. Email (again!)
95% of companies use email to market themselves, so don't get left behind!
Email marketing is commonly extremely effective compared to other marketing channels. The recipient has opted to receive the emails, so you're on their radar already which is why marketing experts still see email as the channel having one of the best conversion rates.
Sending a regular email newsletter can be a cost-effective way to keep your company in the minds of your customers. Then if they proceed to your website, that's more traffic and a chance at more leads.
To see more, take a look at this case study from HVAC Girl on AAON's email marketing campaign.
3. Make Social Media work for you
Everyone has access to social media, either they have their own accounts or at the very least, their family and friends do!
There are 1.45 billion active users logging into their Facebook accounts every day. That's a stat you can't just ignore and as a business you need to take advantage of the sheer numbers.
But simply signing up and creating a page just won't cut it these days! It's important to understand how your online audience will use your pages, start thinking of it as a community and you're on the right track.
People have on average five social media accounts and spend 135 minutes a day browsing through their timeline. So generic spam-like content won't grab their attention anymore.
Mix it up when it comes to posting, blend in blog posts, offers and more personalised posts like these examples from Aerocool Ltd:
Sharing blog posts from industry leaders proves you're engaging with the latest news and movement, creating trust between you and the customer.
More fun, shareable posts like the example above creates a friendly atmosphere between you and the customer.
​
Pro tips:
Facebook also offers advanced techniques to help you reach your audience:
Build a custom audience with your clients list.
Outreach to your clients, prospects…or people with similar traits, using 'lookalike' audiences.
Learn more about your typical customer using Facebook Audience Insights.
4. Print
Print marketing can still be really effective in the HVAC industry. Customers are looking for their local contractors, so they will use local channels to find them.
Newspaper adverts promoting HVAC contractor's services should be directly aimed at the homeowner. Tell them about special offers and how good your service is, don't bombard them with technicalities at this point.
In the above examples from Foobot and Healthy Home System, effectively keep it simple, but all the information required is included.
HVAC contractors can also take advantage of print marketing when it comes to visiting customers to give quotes. Contractors can easily leave behind brochures or leaflets full of information with customers, so they're assured they're working with a reputable firm.
The main drawback with print is that it's very hard to assess the return on investment. At best, you can have a rough idea. For instance, you can add a simple URL in your print ad that is only used there, hence you know that visitors coming to this page were driven by the print ads.


5. Create your own 'Blue Ocean' with a clear and unique value proposition
Blue Ocean refers to a marketing strategy that is a "New, uncontested market space that makes competitors irrelevant and that creates new consumer value often while decreasing costs." –Financial Times
Since so many other HVAC contractors focus on heating and cooling, find your own special way to promote your activities. It's always better to be perceived as a specialist in what you do, rather than someone who does "a bit of everything". No homeowners want to have a leak after an intervention, right?
By creating your own niche, you'll be perceived as an expert in your (specific) field, which means bigger margins.
For instance, a few contractors leverage the healthy home / smart home trend to be perceived as "home doctors" or "home air quality specialists". Focusing on new innovative products, some of which are connected, is "one of the best business models in the industry for targeting Millennial customers" according to CePro.com
**Extra Tip**
It's important that you keep SEO in mind so that you rank high in search results. You need to be found in your area's listing, that way you're constantly driving traffic to your services.
Search algorithms are sophisticated, in addition to targeting the right keywords, you'll need to take advantage of other online opportunities such as pay per click adverts and optimising your website. Due to high competition, an experienced eye on your pay per click (PPC) campaign is a must, they can become expensive and inefficient if not managed correctly.
The key is to tie it all your marketing efforts in together, whatever you put out to your customers needs to have a strong brand voice. To succeed, customers should be able to instantly recognise you and your brand. Build yourself a strong brand, even if only a local brand!
It's an essential task to get new customers and leads through to your business, to read more on how check out our ebook below: